Host profile: Brown ,Johnson, Martin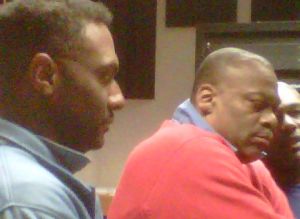 Mr. Brown started radio back in 1981 going across the country giving weekly presentations on radio "The Good News of GOD".. In 1986 Brown joined TPC on WRTC doing night time radio. Brown opportunity arrived to produced and hosted a radio talk show weekly on Saturday and Sunday from 12-2 PM during prime time in the afternoon with co-host Sam Sailor during 1988-92. Brown and Sailor hosted shows with City and State officials even the late and former Senator Wilbur Smith before his passing. Brown remained an active mermber of the great TPC promoting oldes and goodies on night time radio. Brown was elected to The Community Affairs Coordinator in 1999-2001while still being an active member on TPC. In 2004 Brown was appointed Coordinator over Gospel Praise Music and Coordinator of Thought Power Crew. Brown's appointment included fixing the gap between students and Community DJ's and the Eboard at Trinity College. Brown first duty as coordinator was to bring back a level of integrety to TPC and its followers in the community by giving them the best in night time music.
,Brown gave up his DJ position when he became coordintor of TPC back in September of 2004. However 2007 sent WRTC in more mindful collabrative manner. WRTC needed its own community talk show to help bridge the cap between community and school. WRTC was asked to keep up with the community issues around and about and to highlight them through a Community Talk show. Brown and Sailor were the hosts of the only successful Community Talkshow on WRTC for a period of (4) four years. This sparked Brown once again to pull out this OLD NEWS CAP and put in his petition to bid for the Community Talk show host show during the FALL of 2007.
This time around Brown obtained one half of the Bid and Carribbean DJ Wasine received the other half . And in doing so WRTC received and put forth twice the effort and gained Community issues from Mainstream and the Carribean Community.
Brown knew that the mission could not be complete without an added Co Host to assist with Community issues.
Brown wanted to bring Sam Sailor back to radio for one last go around but could not do so at this time.
But Brown realized that he had brought a gifted and talented Radio personality DJ CHILL aboard to Thought Power Crew while being Coordinator in 2006. Radio personality DJ Chill better know as Brother Michael Johnson who is a well rounded individual with a Degree in Social and Human Services. Johnson holds a degree in the ministries as well. Johnson a Hartford native who grew up in the Fog Hollow and Northend of Hartford is well known for his poetry and Adolescent achievements through HIP HOP. Johnson's radio speaking ability and cunning way of outlining the issues at hand has earned him and Brown "DEEP TALK" the listenrs state followed with only echoes from others who listen saying "They are the Talk of the Town."
Brown and Johnson believed that they needed more and they added to the Dream Team, Brother Wayne Martin who has a gift to bring on guest that can edify. teach, and educate and also adding to the slate neighborhood Community Activist Jonathan Small who adds a touch of magic to the show researching and understanding local history of issues in Connecticut.
Hosted shows